LOCAL NEWS
Author inspires children
By Tarryl Jackson
Photos Erik Holladay

About 60 fifth-graders shot their hands into the air after Aaron Zenz asked how many wanted his job.
Zenz gets to write and illustrate children's books for a living.
"I grew up and I get to color all day," said the 30-year-old author of "The Hiccupotamus."
"I think it's great."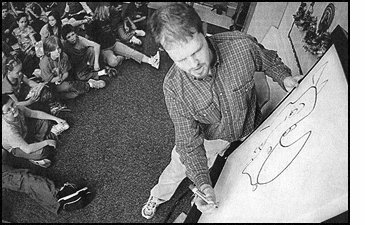 Zenz visited Townsend Elementary School on Thursday and Friday, to talk about his job and to excite students in grades K through 5 about reading and writing.
Many students purchased copies of his book, which is about a hippopotamus who has the hiccups. He and his animal friends do what they can to cure his malady.
Zenz read the book to students and made a loud, deep gasping noise to illustrate the hiccups. The students laughed out loud with excitement.
He had the fifth-graders come up with a nonsensical poem which he illustrated on the spot.
It went like this: Once there was a dinosaur, who had a crooked spineosaur, he ran into a vineosaur, and made him feel just fineosaur.
Zenz drew a bug-eyed dinosaur who ran into a vine that straightened out his spine.
The students cheered when they saw the end result.
"See, writing doesn't have to be a chore," Zenz said afterward. "It can be fun."
Zenz also drew a picture of the rhinoceros and centipede from the book for the both of the fifth-grade classes. Students applauded and also got their books autographed by Zenz.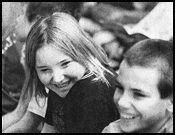 "I liked how we got to do the poem and he drew the picture," said Kendra Clay, 10.
Classmate Ashley Berkey-pile said she loves to take paper and draw.
Ashley said she would like to do work like Aaron someday.
Principal Paul Chilcote said he saw Zenz, who grew up in Jackson, give a presentation at the Carnegie branch of the Jackson District Library a couple months ago.
This week Zenz also has visited Ezra Eby Elementary School in Napoleon, North Star Montessori, St. Mary's Grade School, and Keicher and Arnold elementary schools in Michigan Center.
"He was so dynamic," Chilcote said. "We're going to keep the momentum going."
The Hillsdale College graduate lives in the Grand Haven area with his wife and four children. Zenz said writing is something he always loved to do.
"It's a part of who I am," he said. "It's just something God put inside of me."