A Hiccuping Hippopotamus
Proves to Be Quite Hot-amus
Aaron Zenz, '98, Writes and Illustrates Children's Book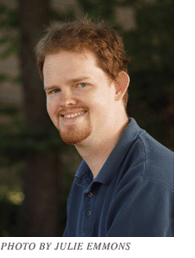 It's funny how a seemingly random burst of inspiration scribbled into a sketchbook can develop over the course of nearly a decade into a vivid children's book now on the shelves of such retailers as Barnes and Noble. Yet that is the story of artist and author Aaron Zenz, whose debut book, The Hiccupotamus, was released in October.
The book follows the saga of a purple hippopotamus who is plagued with an extreme case of the hiccups. His animal friends, disrupted by his ailment, try a variety of interesting techniques in an effort to cure him. Much of the book's allure comes from its bright, bold illustrations, done entirely in colored pencil, and its infectious, Dr. Seuss-like nonsensical words and rhyme scheme.
"About eight years ago, the first verse of the story popped into my head," Zenz, a 1998 graduate, recalled. "I always have a sketchbook on hand, so I wrote it down."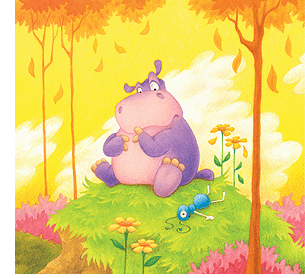 "There was a hippopotamus
Who hiccupped quite-a-lotamus.
And every time he got'emus
He'd fall upon his bottomus."
A year later, Zenz enrolled in a Children's literature class taught by Lecturer in English Melinda von Sydow. She gave the class an assignment – write your own children's book. Zenz remembered the verse he had jotted down a year earlier and used that to begin his story, adding a few more verses.
"That class really piqued my interest in children's books, how fun and creative they are," Zenz recalled. He added his "hiccupotamus" assignment to his portfolio, revisiting it from time to time.
Following graduation from Hillsdale with a degree in art, Zenz went to work as a multimedia designer, working on children's computer games, and later as a graphic designer. About three years ago, three former co-workers launched Dogs in Hats, a children's publishing company.
"They offered me steady work, so I came on board," Zenz said. "Right away they expressed their desire that I complete The Hiccupotamus."
Creating a 32-page book proved to be no easy task, as Zenz had locked himself into such a difficult rhyme scheme with the few verses he had written years ago for his class. He employed a tactic similar to the one Dr. Seuss used to keep rhythm going in his stories – make up words to match the rhyme scheme. In creating the book's illustrations, Zenz pressed extremely hard on the colored pencils he used, or as he likes to say, "mis-used." This process resulted in bright, detailed images. He went through 119 pencils and broke 251 pencil tips in creating the book.
Also unique to The Hiccupotamus are "cast bios" of the characters, and idea born out of the need to fill one more page once the story was completed. "The bios are like a reward for parents," Zenz explained. "Once they finish reading the story for their children, there's something special for them to enjoy as well."
The uniqueness of The Hiccupotamus struck a chord with buyers at a national book show over the summer. The book's first printing was oversold, and a second printing was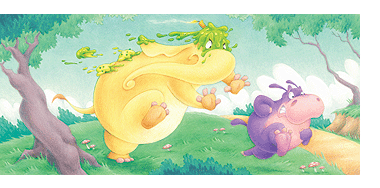 ordered before the book ever hit retail shelves.
Zenz started to carve out his niche in his preferred medium of colored pencil while at Hillsdale. "Professor Sam Knecht really encouraged me," Zenz said. "He would allow me to use colored pencil for projects instead of paint because he knew I wanted to explore the medium." Zenz also honed his artistic skills in a variety of other media while at Hillsdale, from painting to photography to design. During his four years, he designed numerous posters for events in the Music, Art, and Theater Departments. "The whole fine arts branch of the college was very supportive of my work," he said. "Working with the professors on those projects gave me great real-world experience."
Zenz got some "real world experience" in the writing realm as well, contributing articles to the Collegian and writing, illustrating, and editing a publication for InterVarsity Christian Fellowship. He credits the class "Movies as Medium" with Professor of Theater George Angell for inspiring a love for crafting stories.
Undoubtedly, there will be more stories to come, as Zenz continues his work with Dogs in Hats Children's Publishing. Zenz brings excellent credentials as the father of four young children.
"My children really inspire me," he says. "It's great to bounce ideas off of them."
While seeing his book on the shelves of large retailers brings a high degree of pride and satisfaction, the most heartening form of gratification for Zenz comes right at home. "My two-year-old daughter doesn't understand that I wrote The Hiccupotamus, but it's her favorite book and she asks me to read it over and over," Zenz said. "That kind of unbiased love is the best reward there is."
• Monica VanDerWeide